Godox have released the much anticipated XPro, TTL and HSS enabled radio transmitter for their 2.4Ghz flash system.
And the Flashpoint R2 Pro branded version are available now from Adorama for $69.00. In Canon, Nikon, Sony, Fujifilm, Olympus/Panasonic, and Pentax versions.
With a large clear dot matrix LCD screen displaying all 5 groups simultaneously, as well as 5 individual group buttons, the XPro's interface now provides a huge improvement over the previous X1T transmitters.
The XPro transmitter will fire and control all of the lights in the Godox X / Flashpoint R2 – 2.4GHz Radio System. Providing full TTL and Remote Manual power control for 5 Groups of lights, including HSS.
NEW FEATURES
Large Dot Matrix LCD Screen – Displaying 5 Groups
5 Dedicated Group Buttons
Magnify Display – Displays One Group Larger, with More Details
TCM Function – TTL-Convert-Manual
Flash Head Zoom Control – By Group
Modelling Light Control – By Group (On /Off)
ALL Button – Adjust All Groups Together
Large Graphic Menu System – With Multiple Custom Functions
Type-C USB Port – For Firmware Updates
Wireless ID – 01-99
0.1 Stop Manual Power Adjustment (Now Added)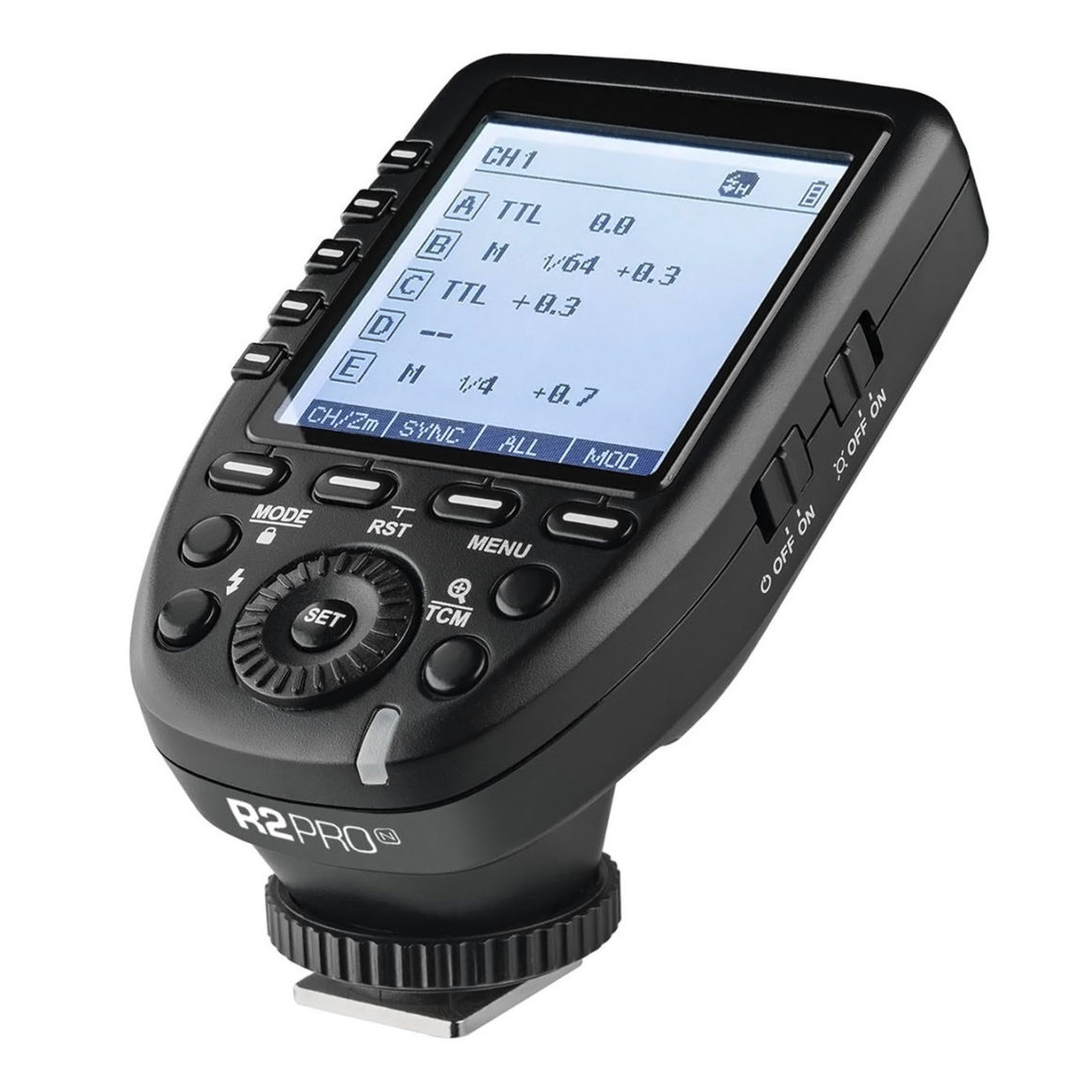 MAIN FEATURES
TTL & HSS
5 Groups Mixed TTL & Manual
16 Manual Groups
TCM Function
Focus Assist Light
100M Range
LIMITATIONS
No Bluetooth Built-in (For APP Control)
No Hi-Sync Mode (Does have regular HSS)
No Double Tap Groups On & Off
No Backlit Buttons
The XPro transmitter now provides the ability to work with up to 5 groups of lights A-B-C-D-E, in a mixed environment where TTL and Manual groups can be used together. And individual groups can now be easily switched On and Off.
NOTE – Pre-2012 Canon cameras only allow TTL in groups A, B, & C. Groups D & E are manual only.
As well as the option of controlling up to 16 Groups in Manual mode (A-F & 0-9), corresponding with the older XTR-16/s style radio receivers.
With dedicated individual group buttons, adjusting each group is now very fast and simple compared to the previous X1T transmitters.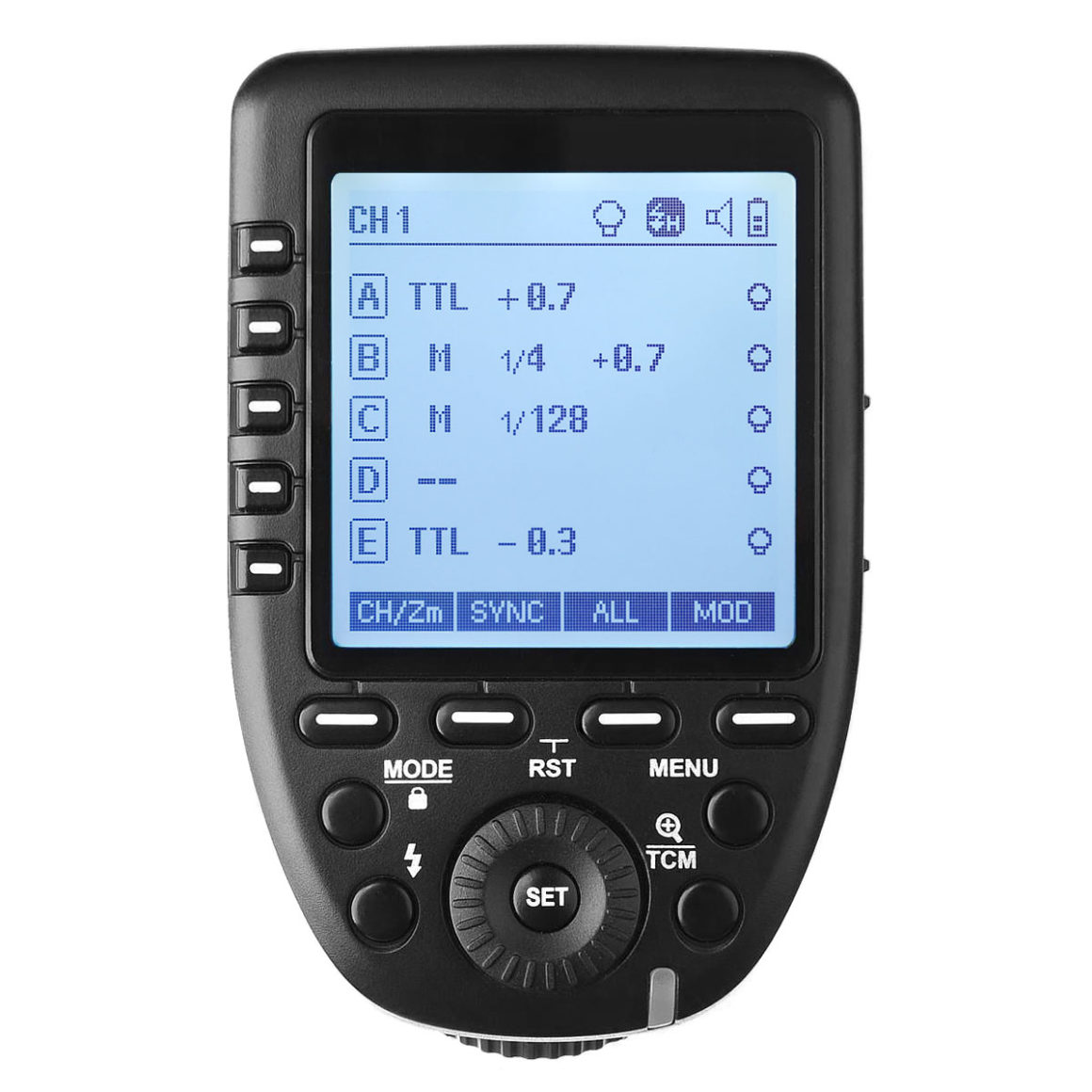 And for people who may prefer a single group style display, at the press of the Magnify Button the XPro transmitter also provides the option of switching back and forth from Multiple Group Display to a larger Single Group Display showing more details.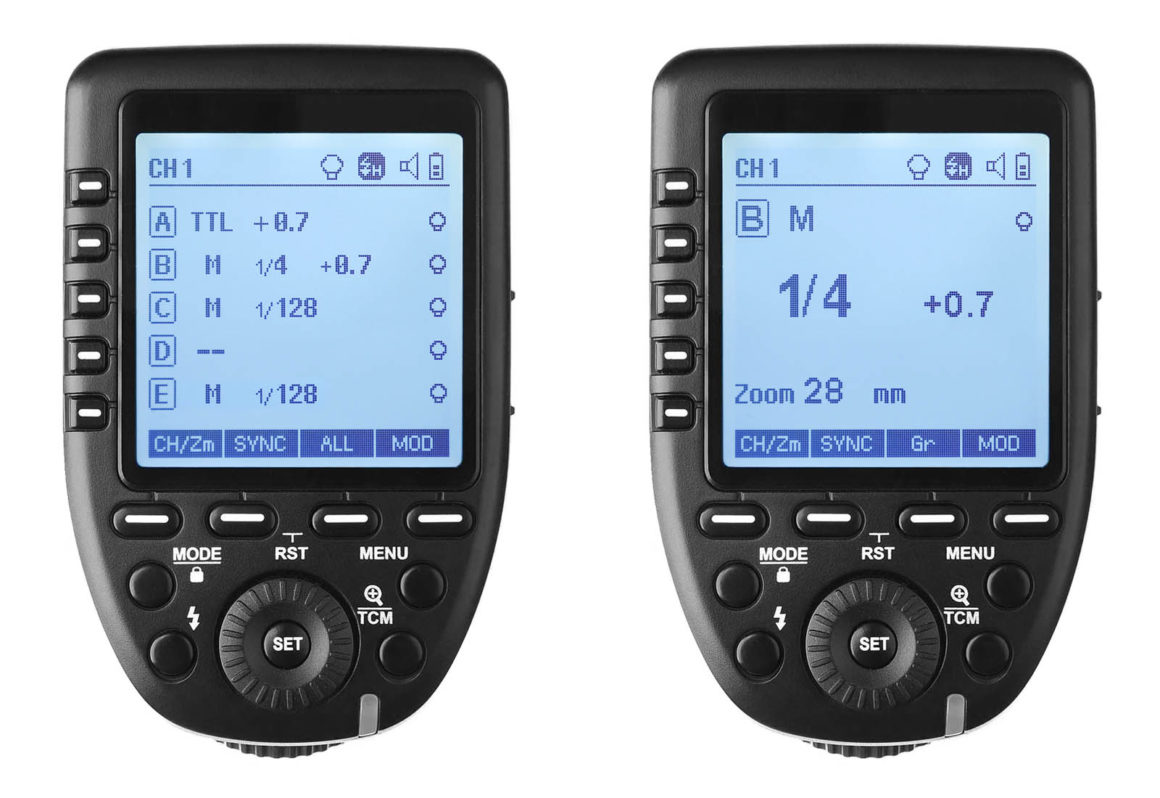 DETAILS
Godox X / Flashpoint R2 2.4GHz RF Radio System
Range – 100m +
Flash Modes – ETTL / M / Multi
TCM – TTL–Convert–Manual
HSS to 1/8000th
Second Curtain Sync
FEC / FEB – 1/3rd Increments (±3 Stops)
FEL (Flash Exposure Lock)
Manual Flash – 1/256 – 1/1 Output (1/10th Increments)
ALL Group Power Adjustment
Remote Flash Zoom by Group
Remote Modeling Light Control
Group Style Mode – A / B / C / D / E  (5 Groups)
Manual Mode – A–F & 0–9 (16 Groups)
32 Channels
Wireless ID 01-99
Compatible with Godox X & Flashpoint R2 2.4GHz Radio System
Large Dot Matrix LCD Display with Adjustable Back Light
Magnify Display – Displays One Group Larger with Details
Modeling flash
Auto Memory Function
AF Assist light (With an On/Off Switch)
Wireless Shutter Release
Type-C USB Port for Firmware Upgrades
2.5mm Sync Port – Input & Output
Powered by 2 AA Batteries
TCM FUNCTION
Another significant feature introduced with the XPro transmitters is the new TCM function.
TCM stands for: TLL–Convert–Manual.
With TCM its now possible to take a shot in TTL mode to attain an initial exposure very quickly, and then with the press of a button convert those TTL power levels to now display on the transmitter as Manual power level settings.
The TCM function is potentially a very big advantage for people operating in a fast paced environment, allowing a base setting to be gained very quickly without manually metering lights. Switching to Manual the individual power levels can then be refined as needed, and exposures remain constant for subsequent images.
ZOOM CONTROL & MENU
Other new features include a flash Zoom control screen, now allowing each group to be set individually.
As well as a large new graphic Custom Function Menu (see the full C.Fn list here).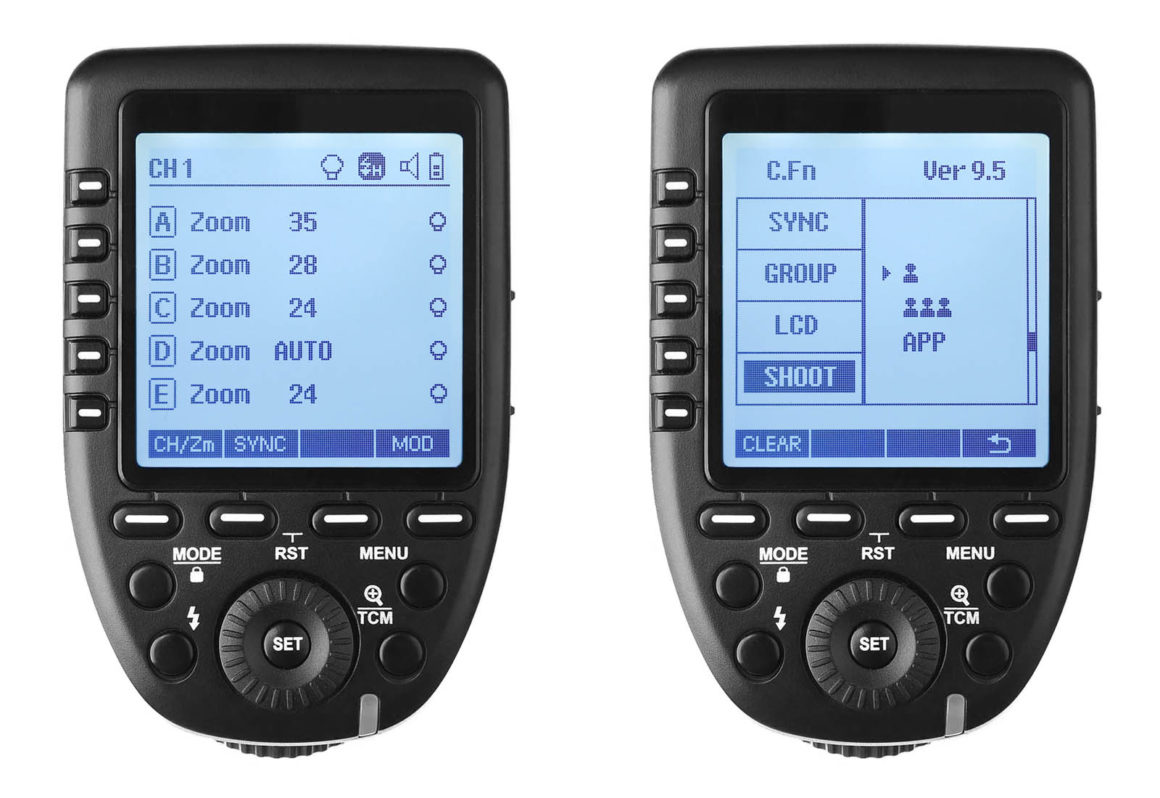 USB-C PORT
The Xpro transmitters have now updated to the USB-C style port for firmware updates.
And once again provide a 2.5mm sync port.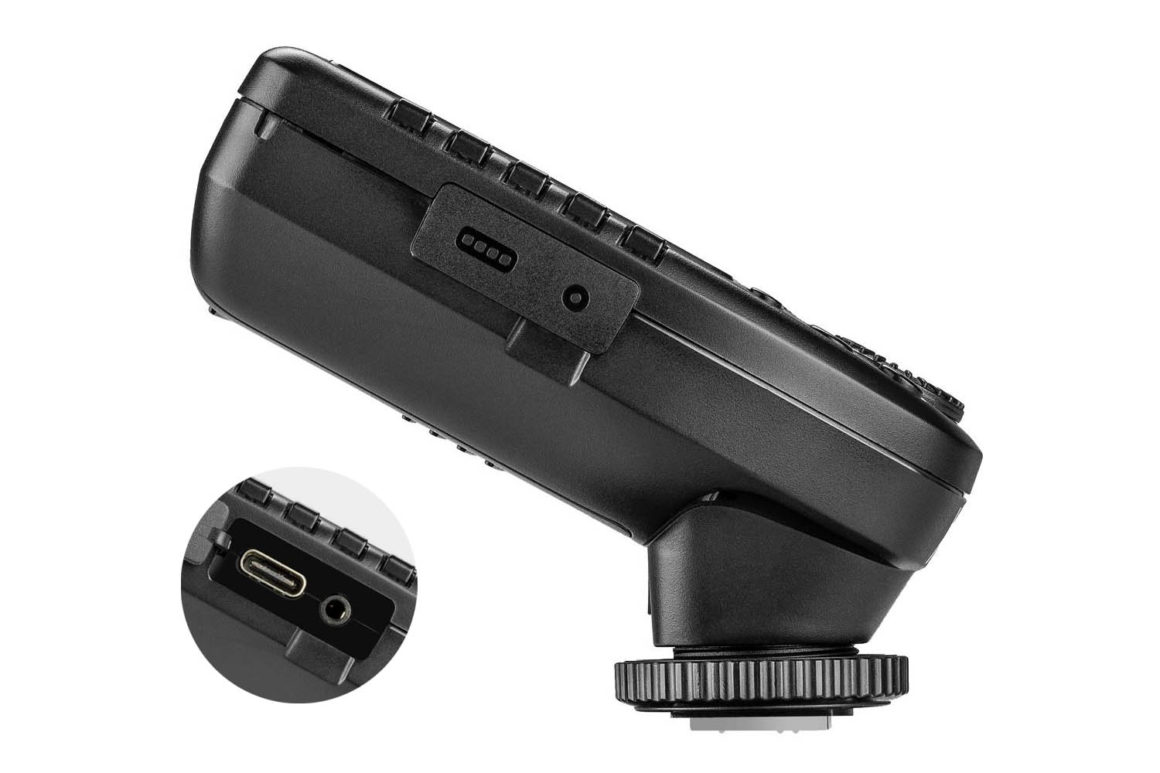 AF ASSIST LIGHT
The XPro transmitters again feature a built-in AF Assist light. Currently using the same light pattern as the previous X1T transmitters.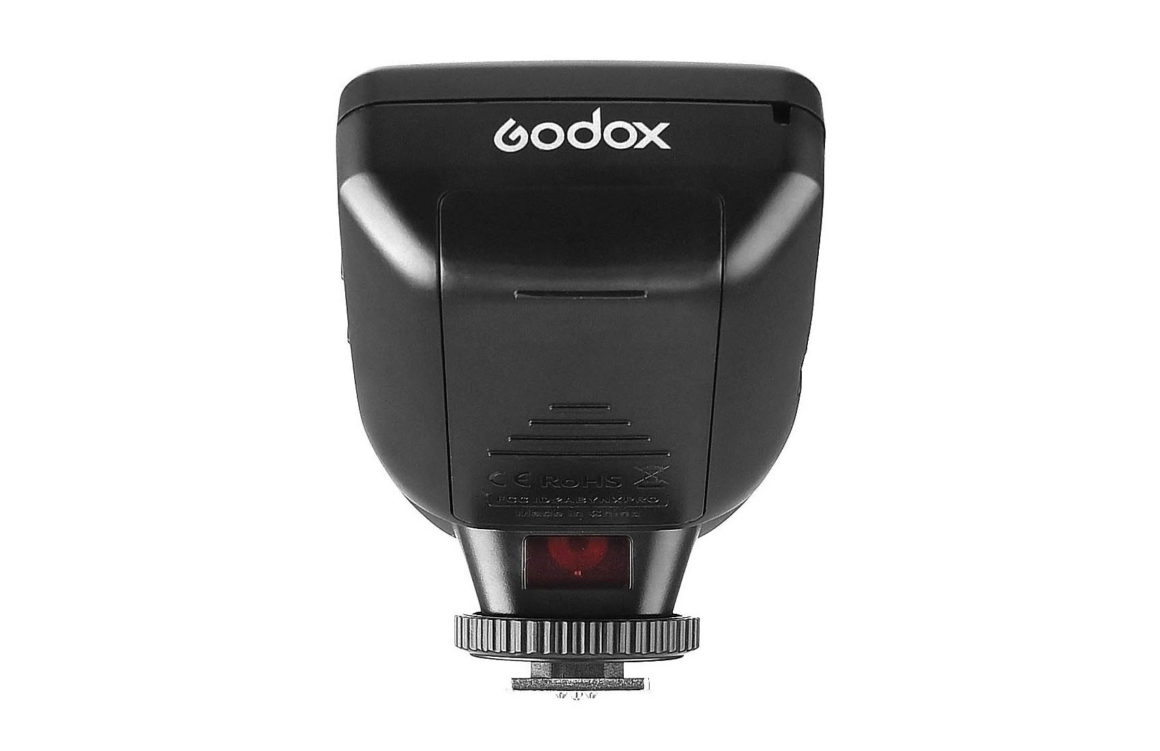 And again a regular screw locking foot is used. And power is via 2 regular AA batteries.
The AF Assist light has its own dedicated switch, alongside the main Power switch.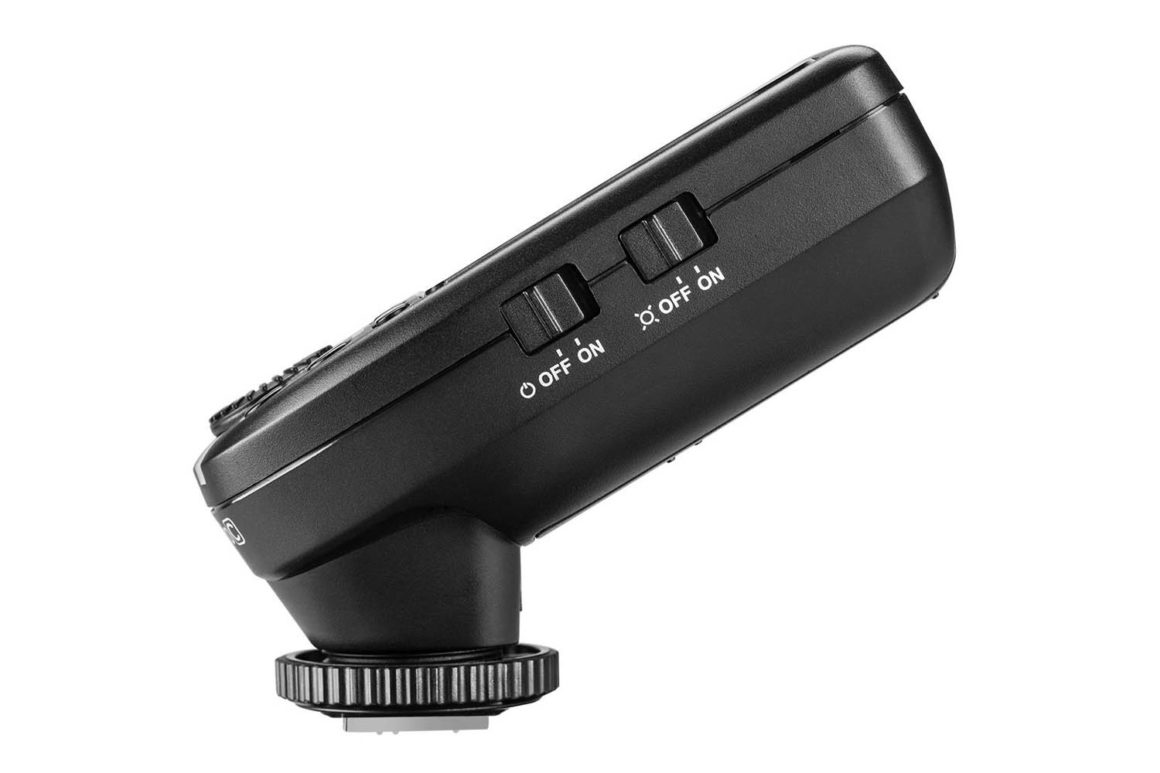 SPECS
Model
XPro
Compatible Cameras
Canon, Nikon, Sony, Fujifilm, Olympus/Panasonic, Pentax

Power supply
2 * AA batteries
Flash Exposure Control
TTL autoflash
Yes
Manual flash
Yes
Stroboscopic flash
Yes
Functions
High-speed sync
Yes
Second-curtain sync
Yes
Flash exposure compensation
±3EV (exposure value), adjustable in 0.1 EV increment
Flash exposure lock
Yes
Focus assist
Yes
Modeling lamp flash
Control the flash modeling lamp by flash trigger
Beeper
Control the Beeper by flash trigger
Wireless Shutter
Receiver end can release camera shutter (2.5mm jack)
ZOOM setting
Adjust the ZOOM value by the transmitter
TCM function
Transform TTL shooting value into an output value in M mode
Firmware upgrade
Upgrade through Type-C USB port
Memory function
Settings stored 2 seconds after last operation & recover after restart
Display
LCD panel, backlighting ON or OFF
Wireless Flash
Transmission range (approx.)
0-100m
Built-in wireless
2.4GHz
Modulation mode
MSK
Channel
32
Wireless ID
01-99
Group
5 mixed / 16 manual
Other
Dimension
90mm*58mm*50mm
Net Weight
80g
2.4G Wireless Frequency Range
2413.0MHz-2464.5MHz
Bluetooth Transmission
No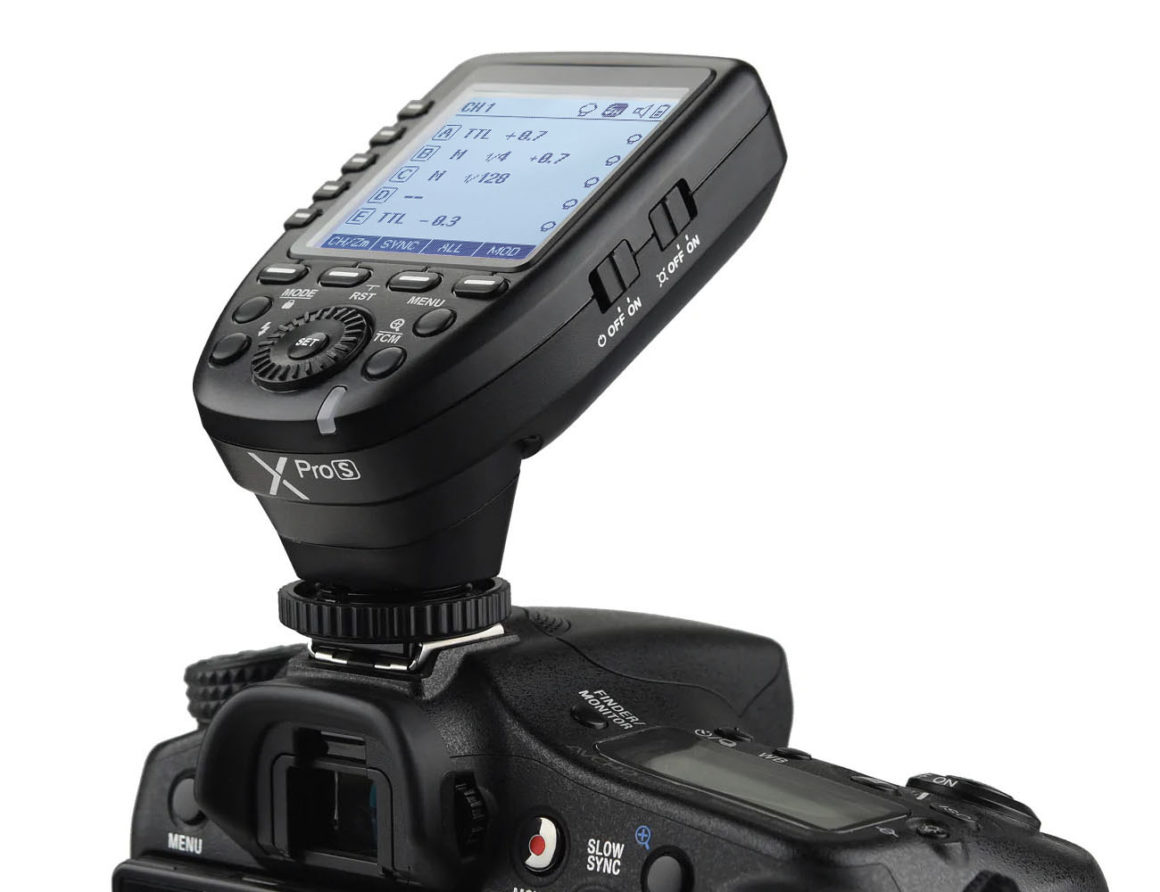 PRICE AND AVAILABILITY
The Flashpoint branded version R2 Pro are available now from Adorama for $69.00.
In Canon, Nikon, Sony, Fujifilm, Olympus/Panasonic, and Pentax versions.
GODOX XPro TTL Transmitter –
Canon – Amazon – UK – B&H Photo – Ebay
Nikon – Amazon – UK – B&H Photo – Ebay
Sony – Amazon – UK – B&H Photo – Ebay
M4/3 – Amazon – UK – B&H Photo – Ebay
Fujifilm – Amazon – UK – B&H Photo – Ebay
Pentax – Amazon – UK – B&H Photo – Ebay
Godox – Website / Firmware
Flashpoint – Website, Firmware
Disclosure Statement – The links above, and links within the post, may contain affiliate links or promotions. These do not cost readers anything and help to keep this website alive. Many thanks for your support.