The Flashpoint R2 PRO Mark II Transmitter is the current flagship TTL and HSS enabled Radio Transmitter providing the most control currently available with the complete Flashpoint R2 and Godox X flash lighting system.
Originally released in October 2018, the R2 PRO II Transmitter was the first product specifically commissioned by Flashpoint for the R2 / Godox X system, and available exclusively from Adorama for just $69, in Canon, Nikon, Sony, Olympus/Panasonic, Fujifilm, and Pentax versions.
The R2 PRO II builds considerably on the original R2 PRO / XPro transmitters, with an interface and functionality highly focused around speed and convenience.
If you're new to off camera flashes, or just like to keep things simple, please don't be intimidated by all the advanced features and buttons detailed below, the R2 PRO II also provide a very simple interface option which is easy for anyone to use, and just as powerful.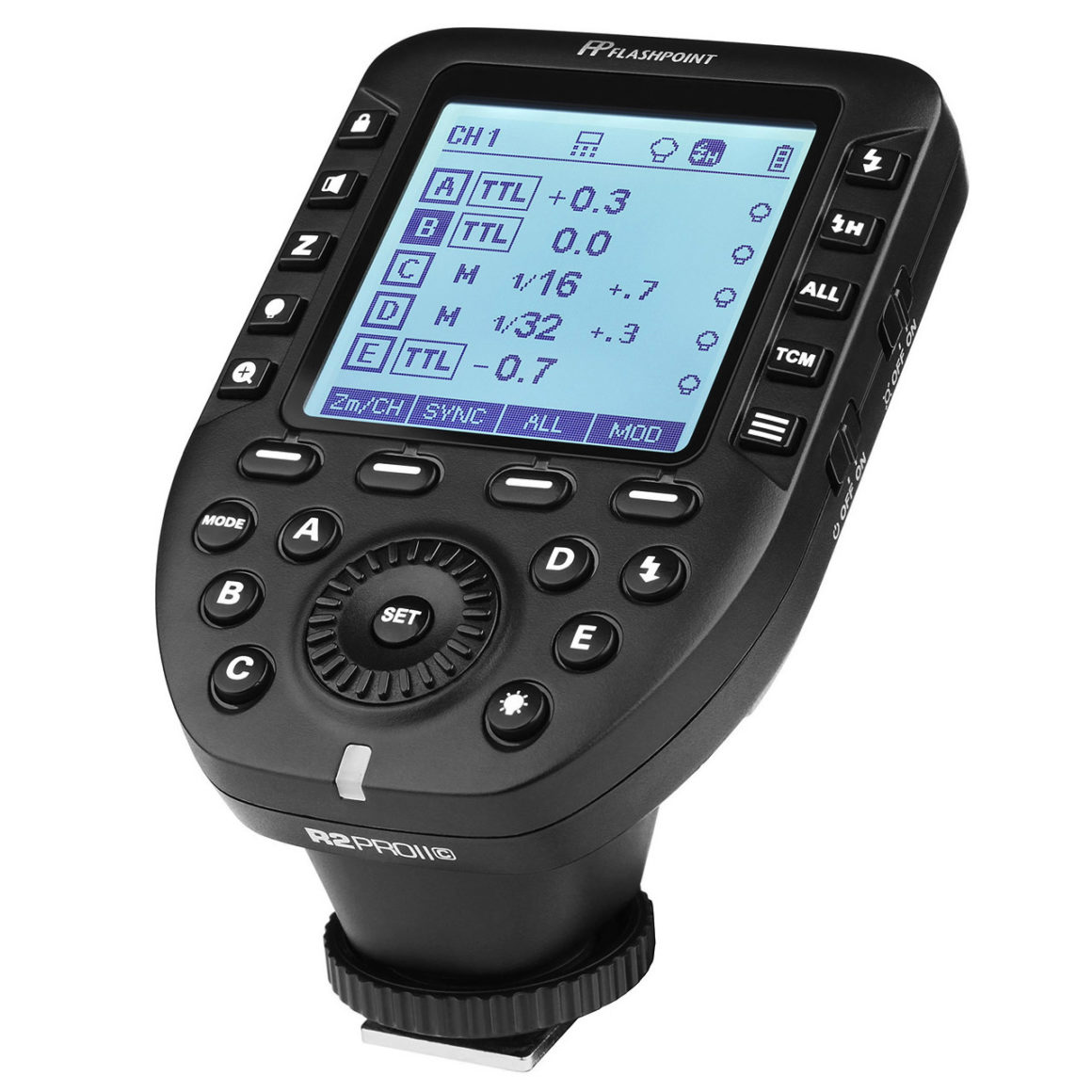 Like with the original R2 PRO and Xpro, the new R2 PRO II Transmitter features a large clear dot matrix LCD screen displaying up to 5 Groups of lights at a time.
With 5 newly positioned dedicated Group Buttons, the interface provides fast control of 5 mixed TTL and Manual Groups, or 16 Manual only Groups (corresponding with the XTR-16/s radio receivers).
Groups can be turned ON and OFF individually, and managed much faster with the R2 PRO II.
SIGNIFICANT NEW FEATURES INCLUDE
5 Quick Access Group Buttons Located Around Main Control Dial
10 Quick Access Dedicated Function Buttons
Larger Main Control Dial
Built-in Bluetooth For Smart Phone APP Control
Channel Scan Function For Best Radio Reception
Mac and PC Firmware Updates
Single Group Test Fire Button
Button Backlighting
Modelling Light Power Control (5% Increments)
Beep Function Control Via Individual Groups
Large Text – Menu Option
High Sync Delay Setting – Menu Option
Multi Mode Disable – Menu Option
Fast Group Management – Shortcuts To Turn Groups ON & OFF
LCD Backlight Button – Shortcuts To Set LCD & Button Lighting
Updated Display And Functions
EXISTING FEATURES
Large Dot Matrix LCD Screen Displaying 5 Groups
TTL, Manual, Multi, HSS, SCS
TCM Function – TTL – CONVERT – MANUAL
Display Zoom – Displays One Group Larger With More Details
0.1 & 0.3 Stop Manual Power Level Increment Options
Flash Head Zoom Control Interface – By Group
Modelling Light Control – By Group
Global Adjustment Of Group Power Levels (ALL Button)
Large Graphic Menu System With Multiple Custom Functions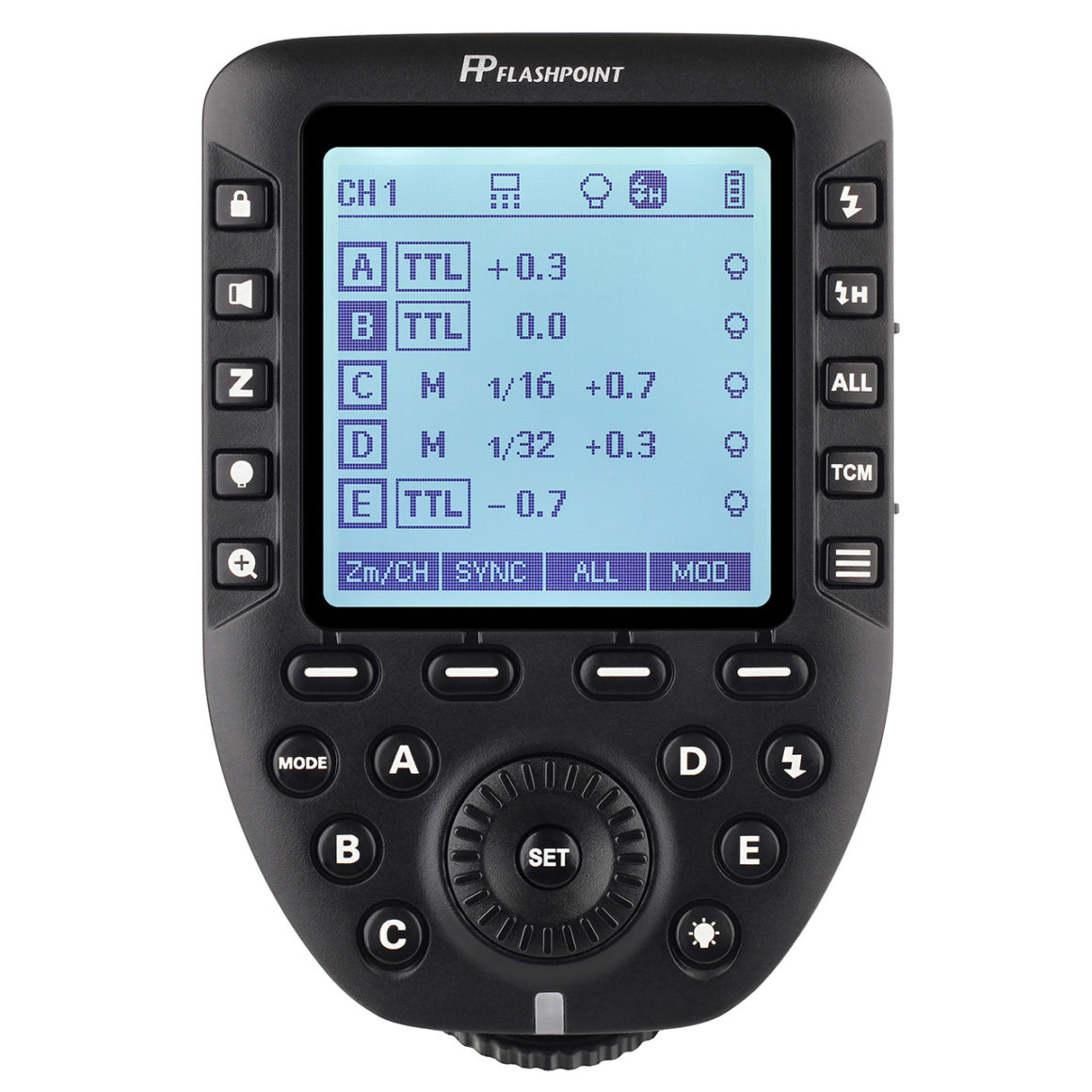 QUICK ACCESS GROUP BUTTONS
The R2 PRO II now feature 5 dedicated Group Buttons, as well as regularly used Function Buttons, all located closely around a new larger Main Control Dial.
This allows a number of lights to be adjusted quickly, without constantly reaching some distance back and forth between controls, and allows left or right hand use without blocking the LCD screen in the process.
Regular users should find themselves being able to quickly adjust a number of lights by feel alone (much like you do with your TV remote etc).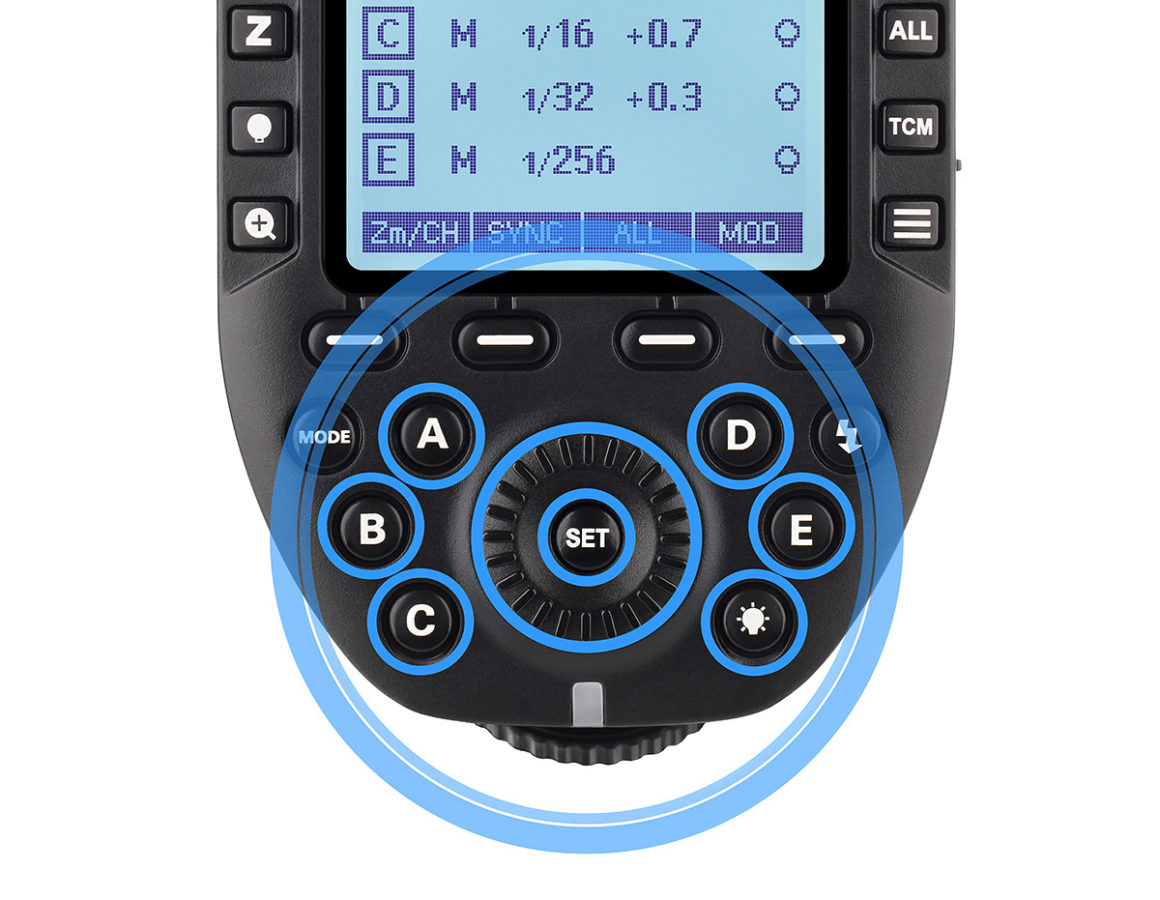 QUICK ACCESS FUNCTION BUTTONS
The R2 PRO II now also feature 10 Quick Access Side Function Buttons, allowing direct access to commonly used functions without the need to dig through multiple Menus.
These buttons may appear intimidating at first, though having them available makes it much easier to access functions easily if needed, and if not they can be disregarded.
For convenience and familiarity the Menu Bar Buttons (along the base of the LCD display) are currently set to the same functions as the original R2 PRO / Xpro transmitters.
(This means access to a number of functions are currently duplicated. Though this may change as the Menu Buttons where intended to be assigned to added functionality in the future).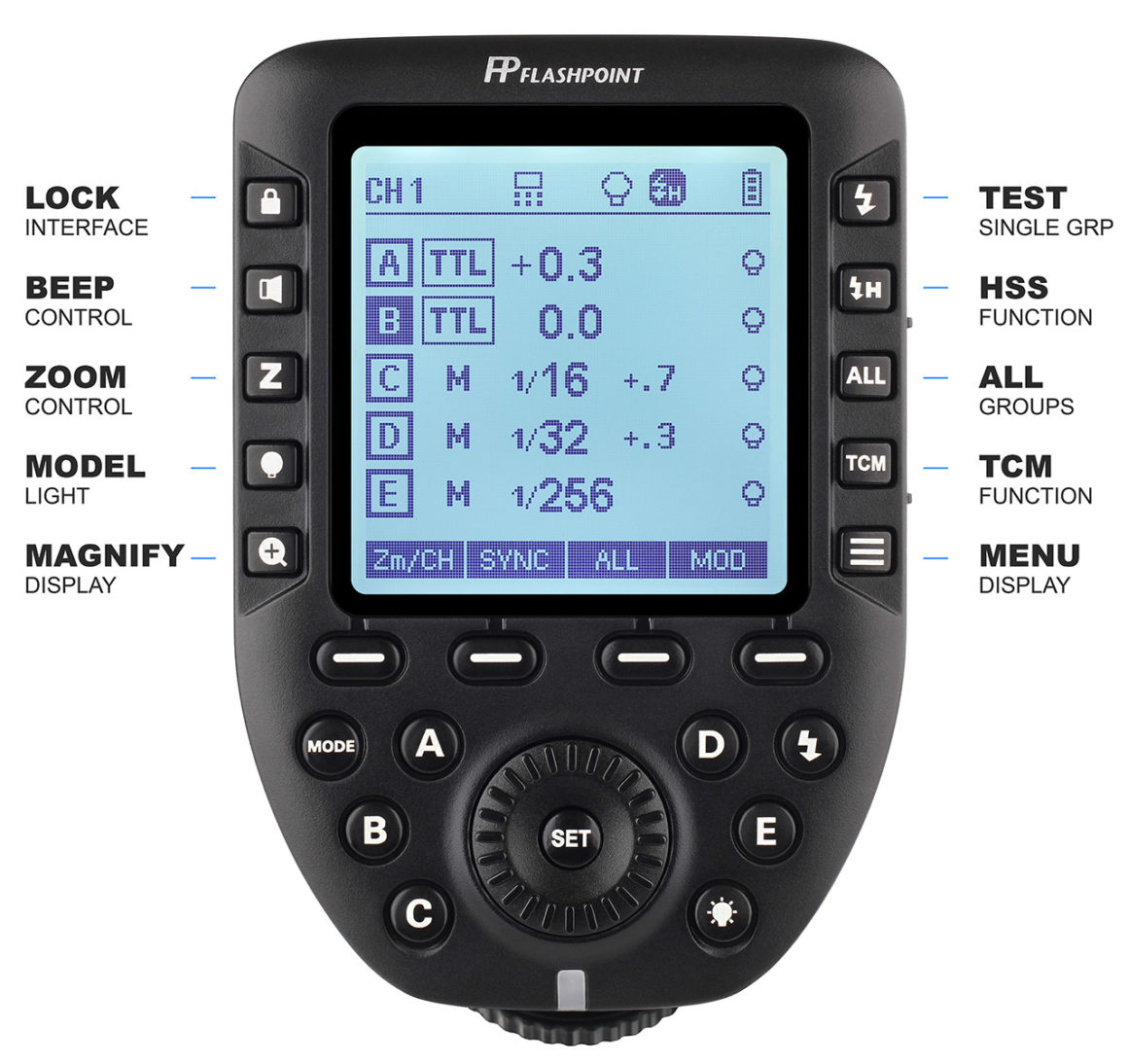 FLASHPOINT R2 PRO II FEATURES
Flashpoint R2 / Godox X – 2.4GHz RF Radio System
Range – 100m +
Flash Modes – ETTL / M / Multi
TCM – TTL – CONVERT – MANUAL
HSS to 1/8000th
Second Curtain Sync
FEC / FEB – 1/3rd Increments (±3 Stops)
FEL (Flash Exposure Lock)
Manual Flash – 1/256 – 1/1 Output (1/3rd Increments)
Global ALL Group Power Adjustment
Remote Flash Zoom By Group
Remote Modelling Light Power Control By Group
Remote Beep Control by Group
Group Style Mode – A / B / C / D / E (5 Groups)
Manual Mode – A – F & 0 – 9 (16 Groups)
32 Channels
Wireless ID 01-99
Compatible with Flashpoint R2 / Godox X 2.4GHz System
Large Dot Matrix LCD Display with Adjustable Back Light
Zoom Display – Displays One Groups Larger With Details
Large Text – Menu Option
Modeling flash
Auto Memory Function
AF Assist light (With On / Off Switch)
Wireless Shutter Release
Type-C USB Port for Firmware Upgrades
2.5mm Sync Port – Input & Output
Powered by 2 AA Batteries
FAST GROUP MANAGEMENT
The R2 PRO II Group Buttons are not only located for fast access, they now also provide shortcuts to manage and switch Groups ON and OFF quickly as required.
This simple combination of button location and added functionality now provides a significant improvement in usability over the original R2 PRO and Xpro transmitters.
DOUBLE Press – a GROUP Button turns that Group ON and OFF.
LONG Press – a GROUP Button turns that Group ON only.
DOUBLE Press – the MODE Button turns ALL Groups OFF (and ALL Back ON).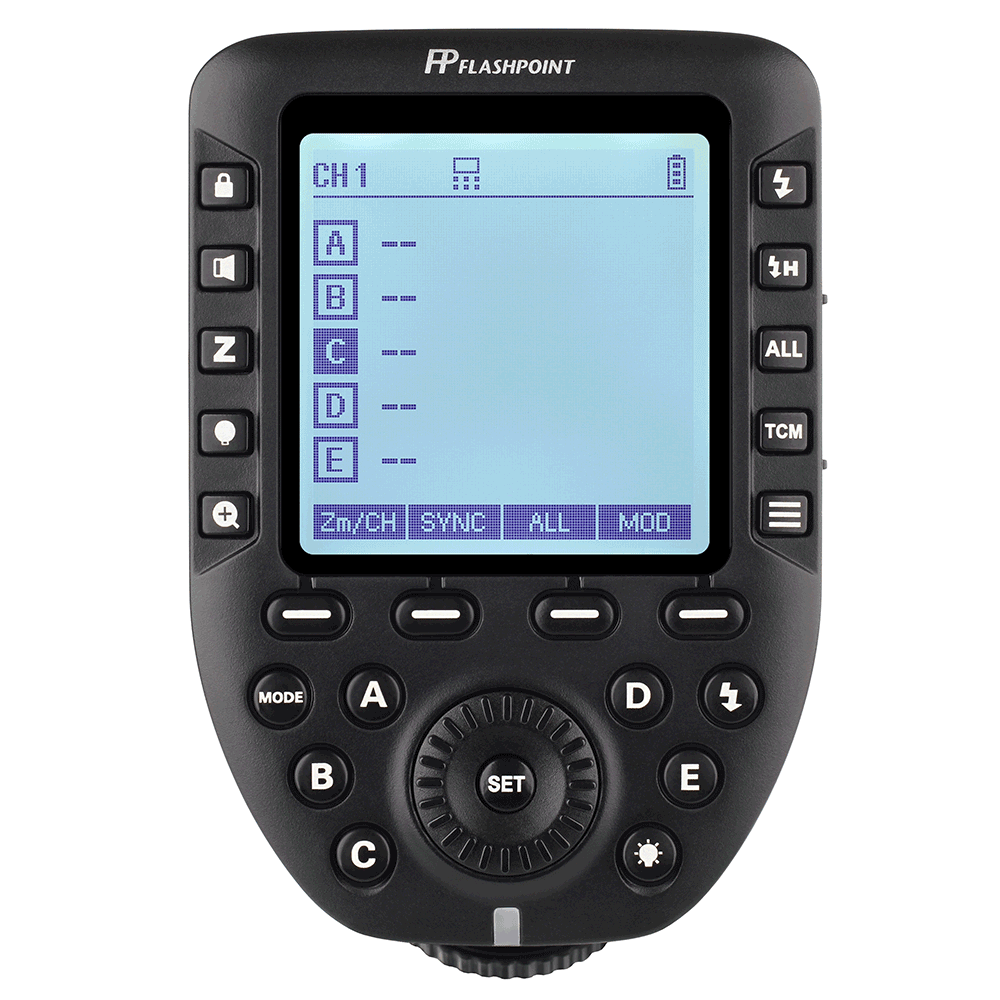 LARGE TEXT OPTION
The R2 PRO II now also feature a Large Text "BIG NUM" menu option. Providing easier viewing from a distance, or with the camera mounted high on a tripod etc, while still accessing all 5 groups displayed on the LCD screen at once.
The larger again, single group "Magnify Display" option, is also still available as mentioned further bellow.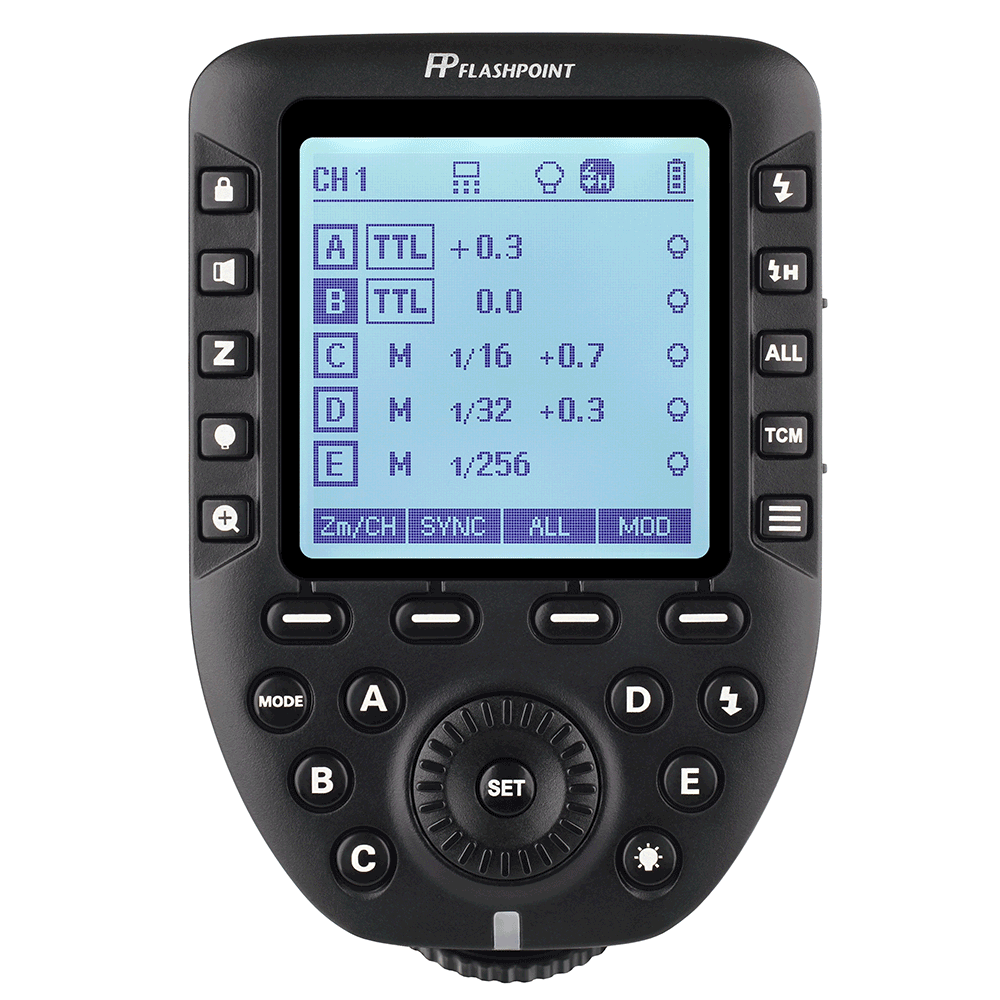 CURRENT GROUP INDICATOR
For added speed and convenience the R2 PRO II now highlight the letter icon of the Group last used and held in memory.
This indicates which group will be selected for adjustment if directly pressing the SET Button (without selecting/pressing a group button first) for example.
And which single group will be displayed in larger format if pressing the Magnify Display Button.
(This should also be linked to the Single Group Test Fire Button as discussed further bellow).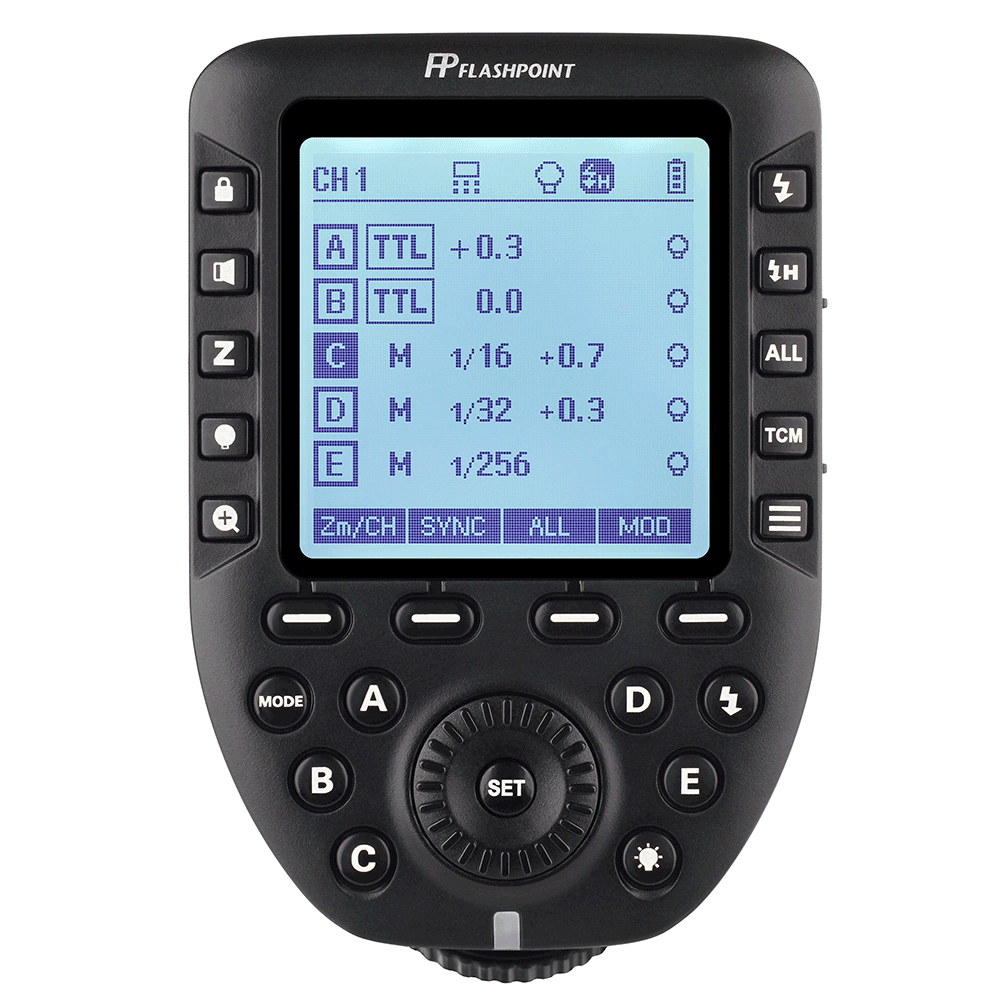 MAGNIFY DISPLAY
Like the original R2 PRO / Xpro transmitters, the R2 PRO II also feature a Magnify Display option, though now assigned to it's own dedicated button.
This option shows a single group, larger, and with more detail. Also allowing the group's Modelling Light, Beep, and Zoom setting to be adjusted on the one screen.
If you're new to off camera flashes, or just like to keep things simple, this is a great option.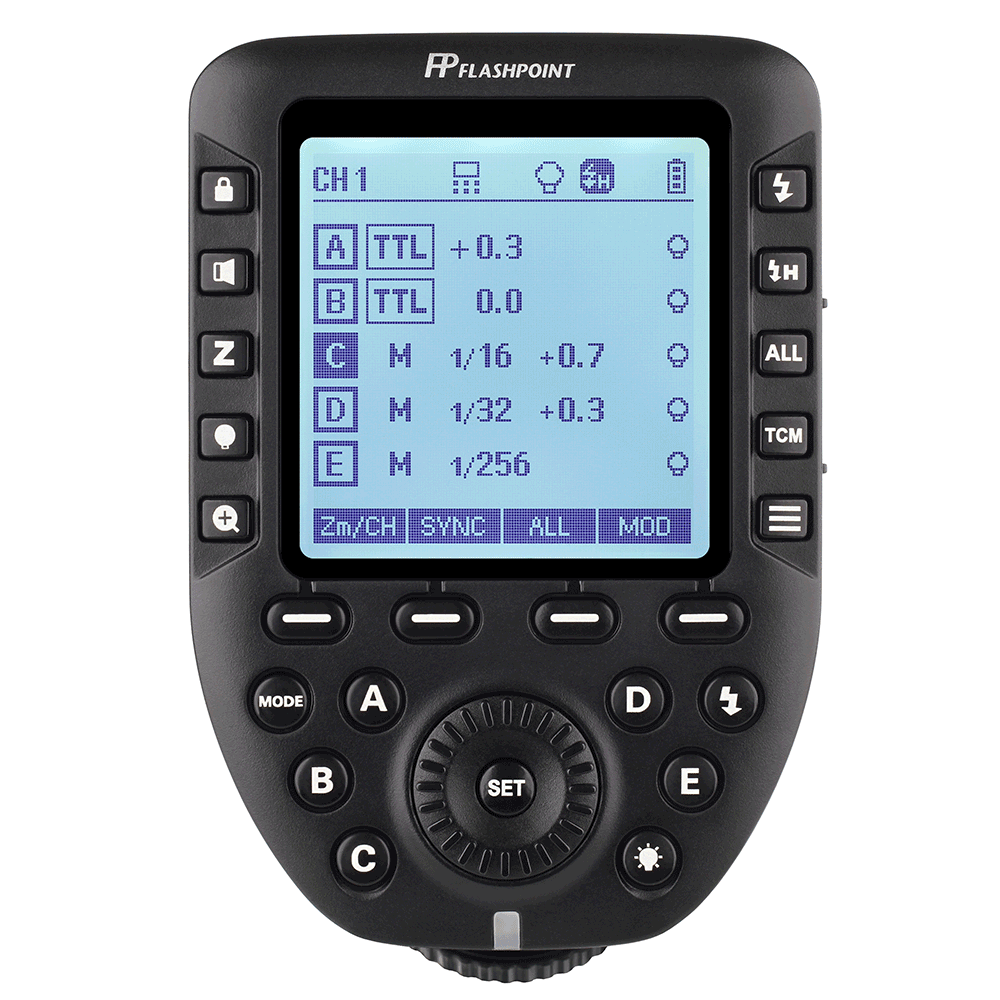 MODELING LIGHT POWER CONTROL
The R2 PRO II now adds remote power control with the receiver flashes modelling lights. In 5% increments, from 10% to 100%, or set to Proportional to automatically follow the strobes power level.
This function is aimed at the XPLOR PRO / Godox AD PRO series of lights (which may require a firmware update to enable). And the AC powered Flashpoint RAPID / Godox QT600IIIM series of lights.
From the main transmitter screen, a Single Press of the Modelling Light Button globally switches All modelling lights ON and OFF together, and individual Groups can also be disabled from the global setting.
Double Pressing the Modelling Light Button enters a separate Modelling Light Screen, where the actual power levels can then be individually set and adjusted.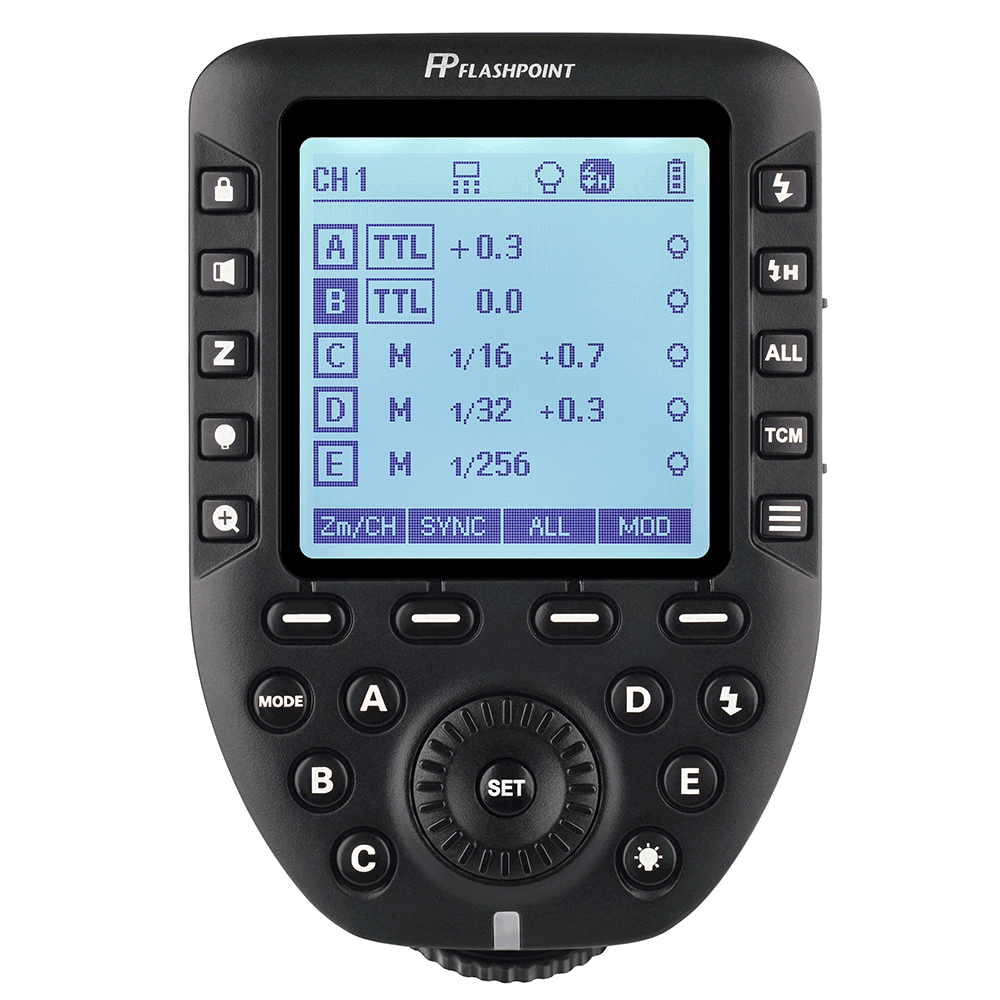 BEEP CONTROL BY GROUP
Like the Modelling Light control, the Beep function can now be switched ON and OFF via individual Group.
From the main transmitter screen, a Single Press of the Beep Button provides a global ON and OFF for all of the Group's Beep functions.
Or individual Groups can be disabled from the global setting by selecting the Group for adjustment, before Single pressing the Beep Button.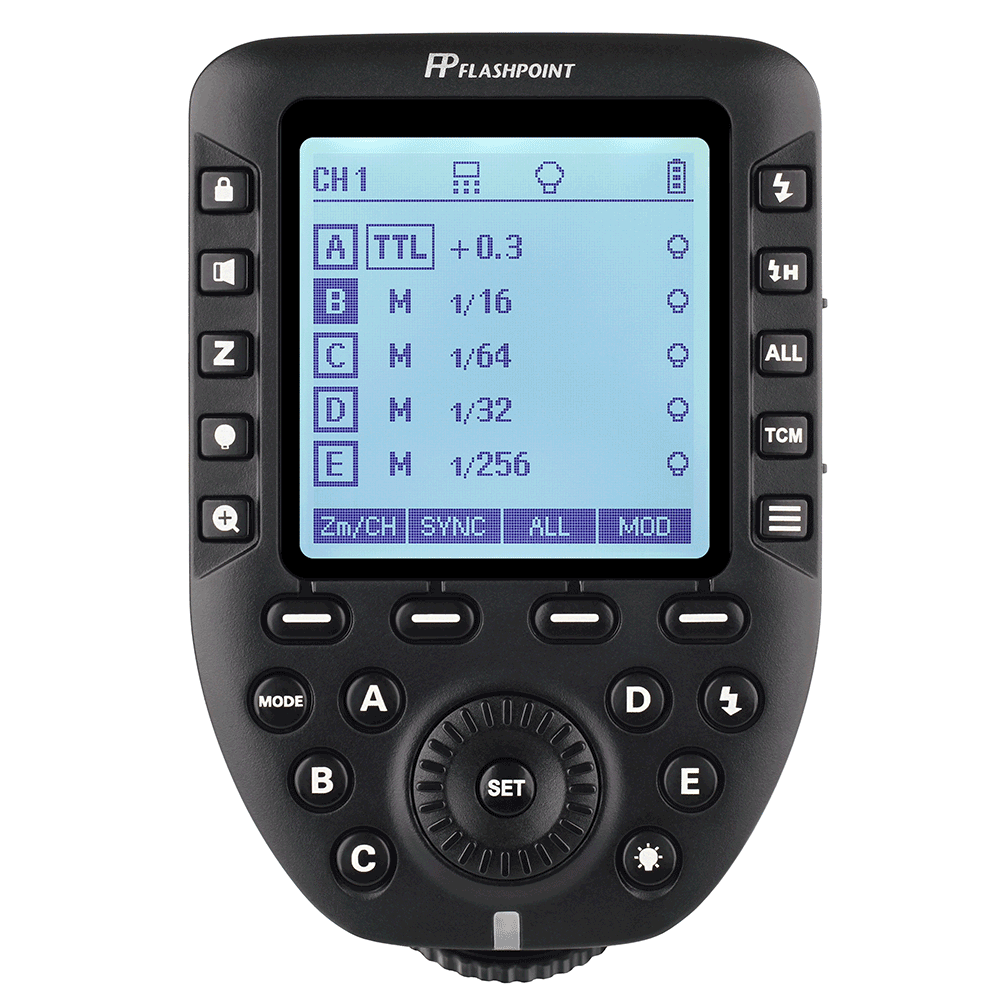 TCM FUNCTION UPDATED
TCM (TTL – Convert – Manual) function, allows a fast initial exposure to be made using TTL, and then at the press of a button converted to Manual power levels displayed on the transmitter, for further refinement and consistency between shots in Manual mode.
The R2 PRO II now also allows the converted manual power levels to be quickly reverted back to the initial TTL settings, with at second press of the TCM Button, so further TTL exposures can be made again quickly.
TCM now has its own button. And the Mode button order has also been reversed (M > TTL > OFF) for faster TCM use.
(NOTE – TCM currently provides the best results when using the same model strobes together).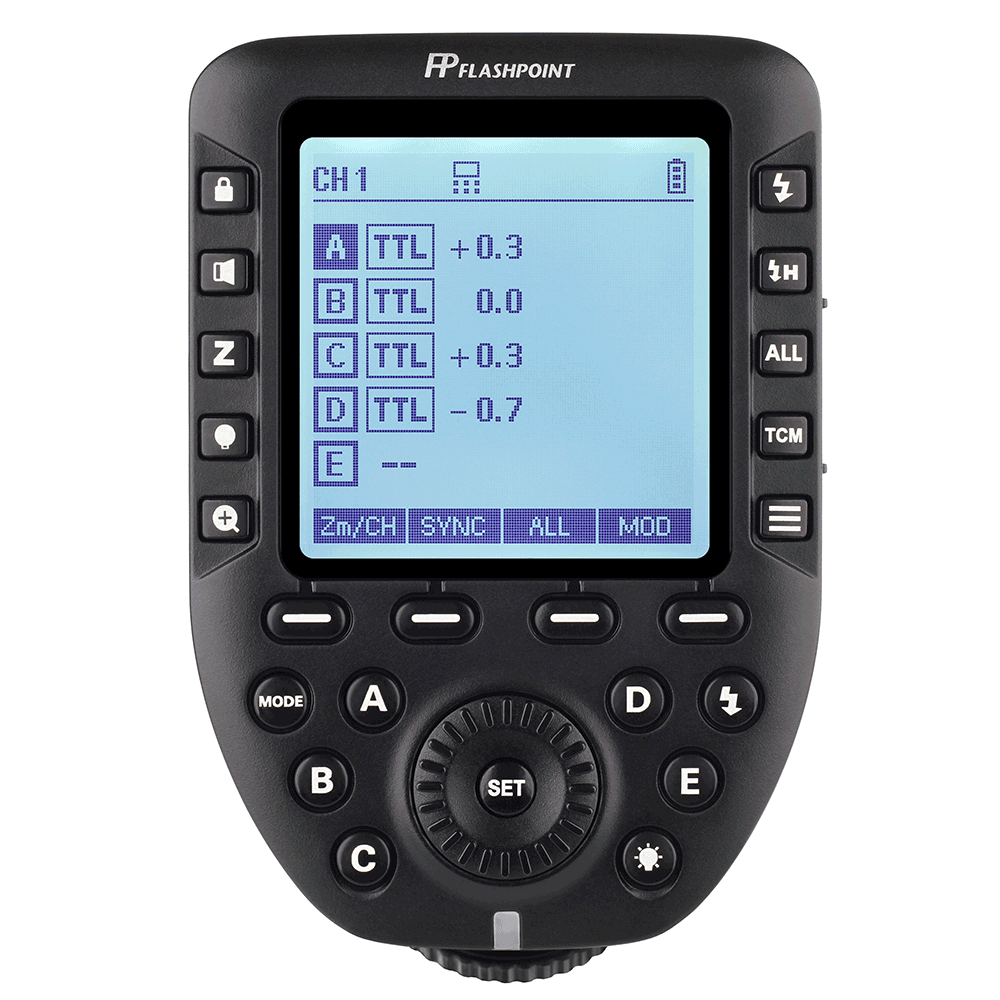 ALL GROUPS UPDATED
The ALL Groups Function selects all the groups to be adjusted together at once.
This can be extremely helpful when making Aperture or ISO changes on the camera, while wanting to retain the current flash exposure levels.
Groups metered with TTL automatically adjust for Aperture and ISO changes though, so the ALL function has now been updated to only select groups which are set to Manual mode, for adjustment together.
(Global TTL adjustment can be made via the cameras FEC setting if needed).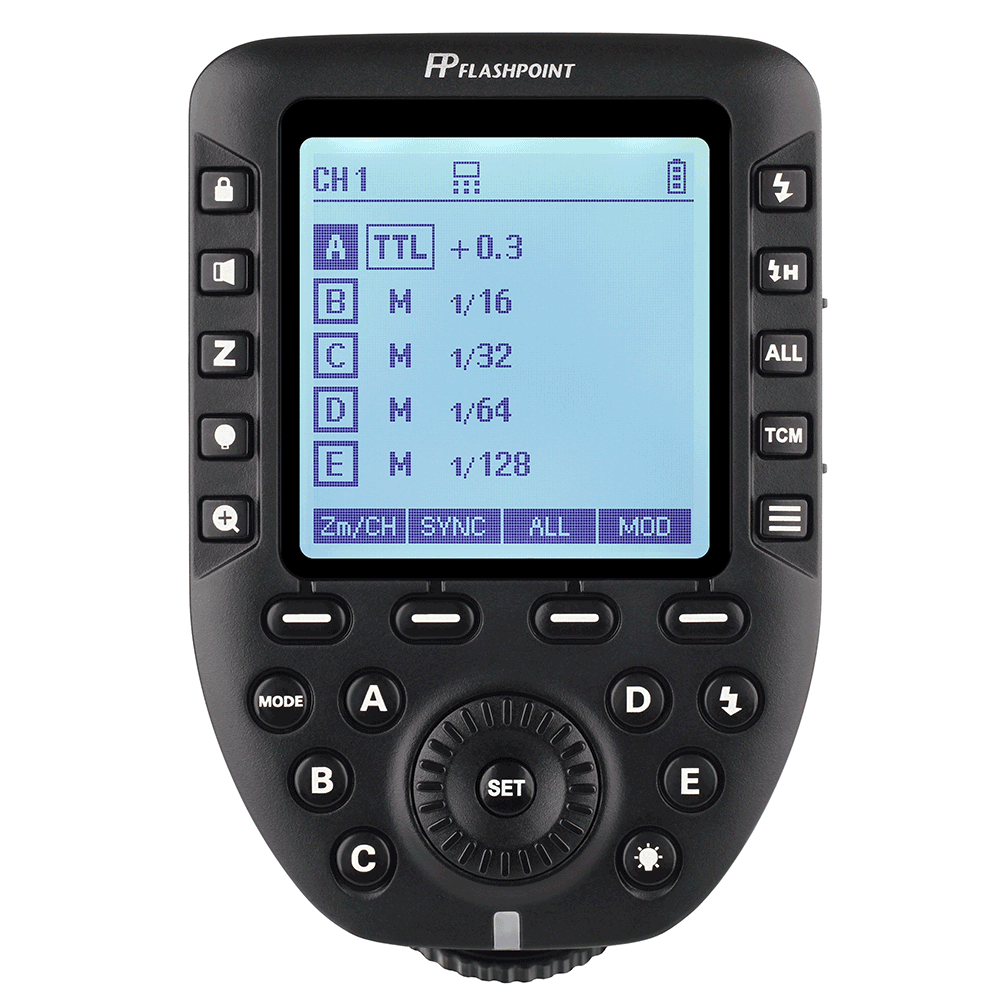 SINGLE GROUP TEST BUTTON
To help speed up flash meter use, or simply identify and test fire a single flash Group on its own, the R2 PRO II now provides a dedicated Single Group TEST Fire Button.
This function is mainly aimed towards the XPLOR PRO / Godox AD PRO series of lights though. As previous lights unfortunately did not have the hardware built included to make this possible.
The Single Group TEST Button will be linked to the Group letter highlighted as the Current Group Indicator, or Group currently selected for adjustment.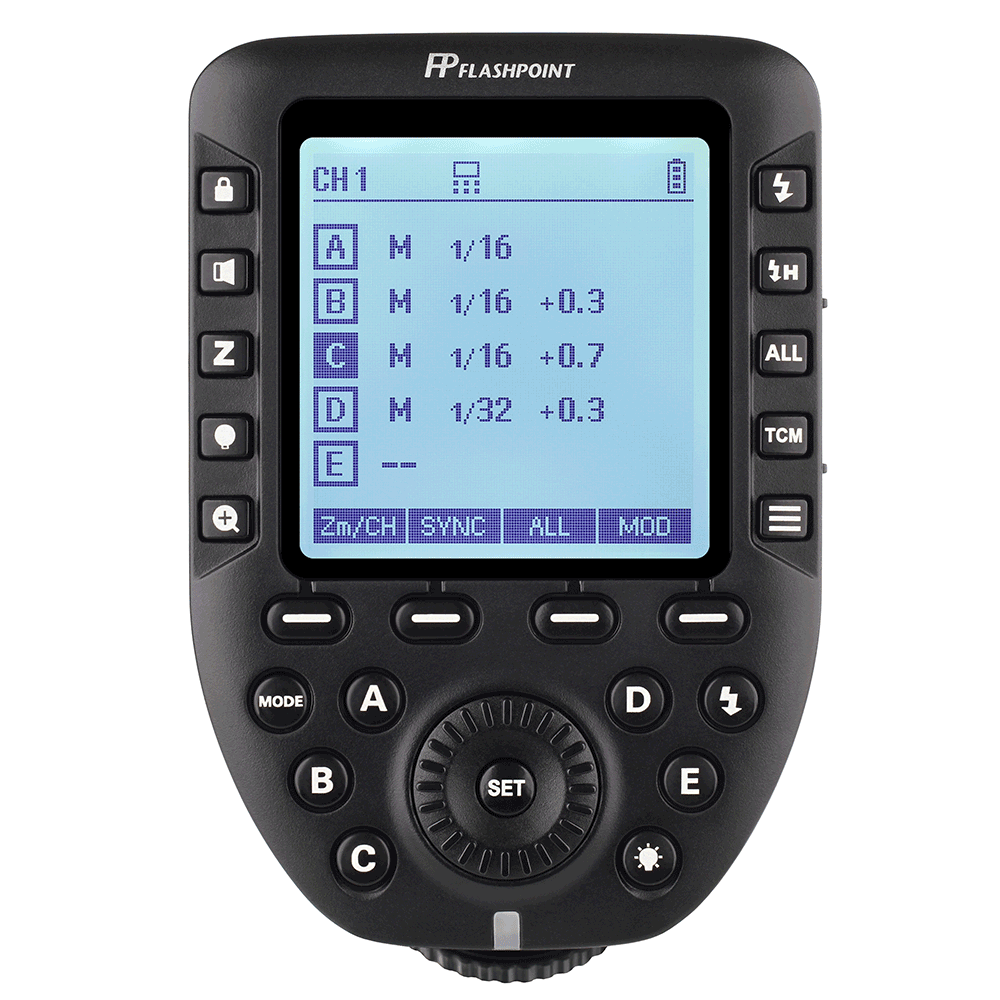 SYNC DELAY SETTING / Hi-Sync
Available in the original R2 / X1T, though not included in the later R2 PRO / Xpro, the 1 – 100 µs Sync Delay Setting is once again featured in the R2 PRO II Transmitter.
The Sync Delay Setting allows the Hi-Sync, or Long Burn, method of achieving shutter speeds above the cameras X-Sync limitation to be used.
The Hi-Sync method can provide more light in the frame than regular pulsing HSS, and can also be used to help avoid heat protection limitations in HSS mode. This is also handy when using strobes that do not provide any pulsing HSS mode.
Though this method can add some gradient to the light level across the image frame, and often requires IGBT strobes to be set to full power.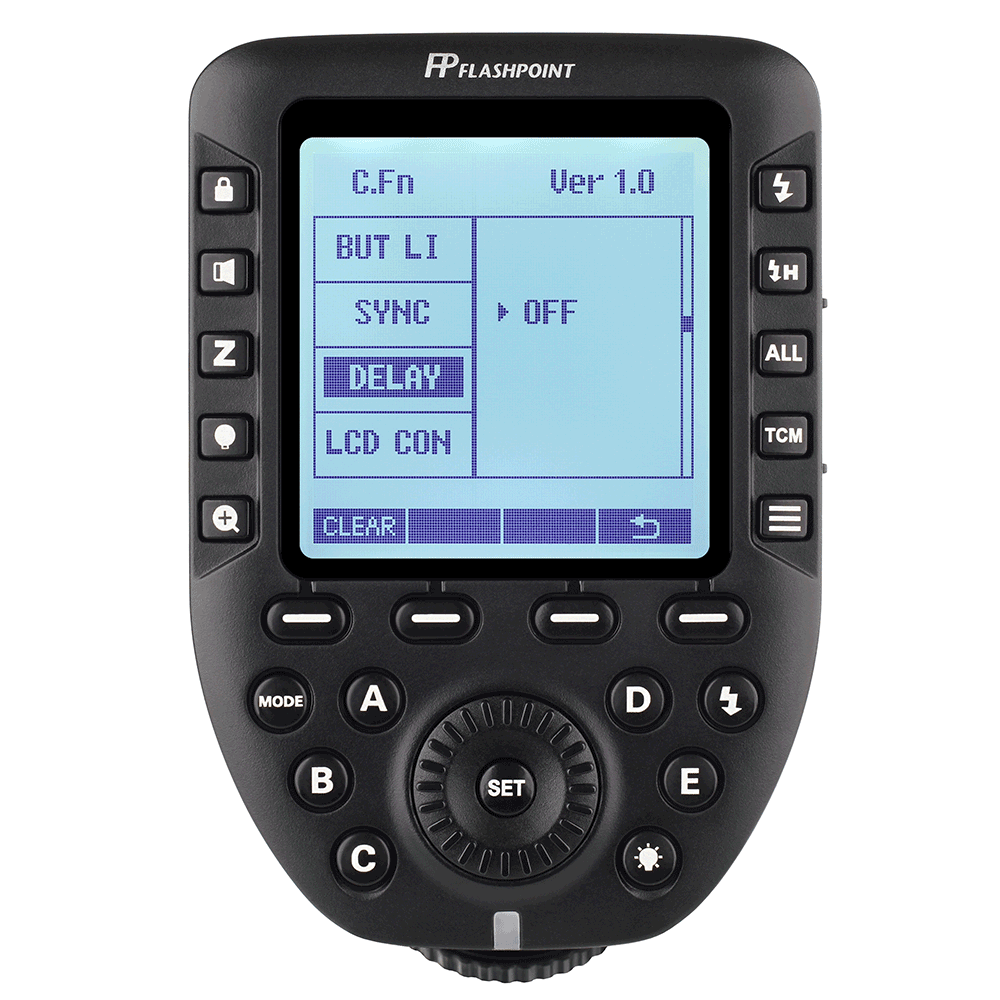 LCD & BUTTON BACKLIGHTING SHORTCUTS
To help in dark environments, the R2 PRO II now provides a degree of button backlighting. As well shortcuts to engage the button and LCD backlighting quickly, without needing to dig into the Menu settings to do this.
To save on battery power though, the buttons surrounding the LCD screen are actually illuminated by the LCD backlight, while buttons bellow the LCD are illuminated separately by their own individual LED lights.
Note – Unfortunately this button backlighting really tested the Godox engineers at the time, and actually held up the transmitters initial release for close to a year. So this is not quite as streamlined as Flashpoint would have liked, though they did the best they could to make this as practical as possible in the situation.
SINGLE PRESS – the LAMP Button illuminates the LCD and surrounding buttons.
DOUBLE PRESS – the LAMP Button locks the LCD and surrounding buttons illumination ON, and OFF again as required, also displaying an icon to indicate this.
LONG PRESS – the LAMP Button locks the lower button illumination ON, (stays on for 12 seconds after activity), and OFF again as required, displaying an icon to indicate this.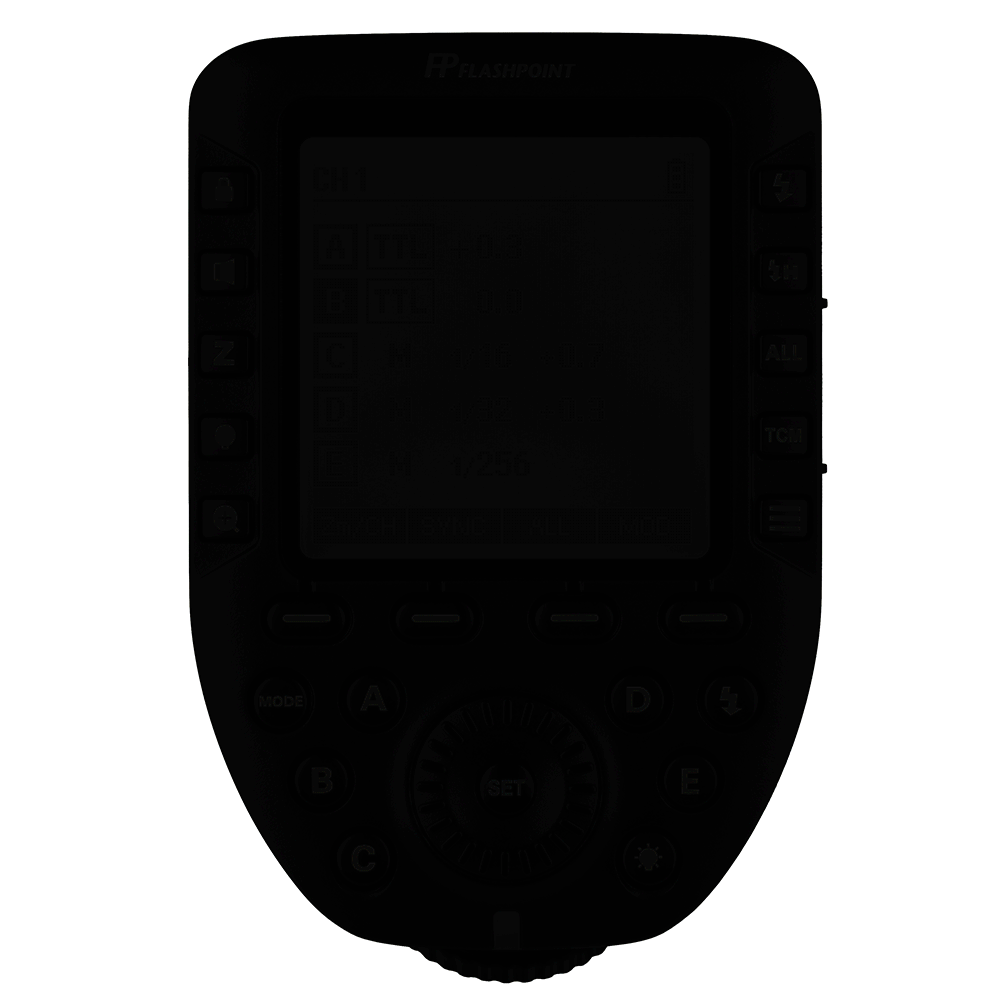 BUILT-IN BLUETOOTH & APP CONTROL
Another significant and great feature of the R2 PRO II Transmitter is Bluetooth capability now built-in.
This allows smart devices to provide remote control for the Flashpoint R2 / Godox X lighting system, no longer needing separate products like the Flashpoint M1 PRO / Godox A1 to relay the signal through.
The FlashPoint R2 APP is currently available for iOS, and GodoxPhoto APP for iOS and Android devices.
NOTE – BlueTooth initial password is "000000"
Unlike the R2 PRO II Transmitters basic "APP" mode, which basically disables the transmitter's interface, the R2 PRO II's Bluetooth mode conveniently displays the settings being sent from the smart device, while relaying them on to the receiver flashes.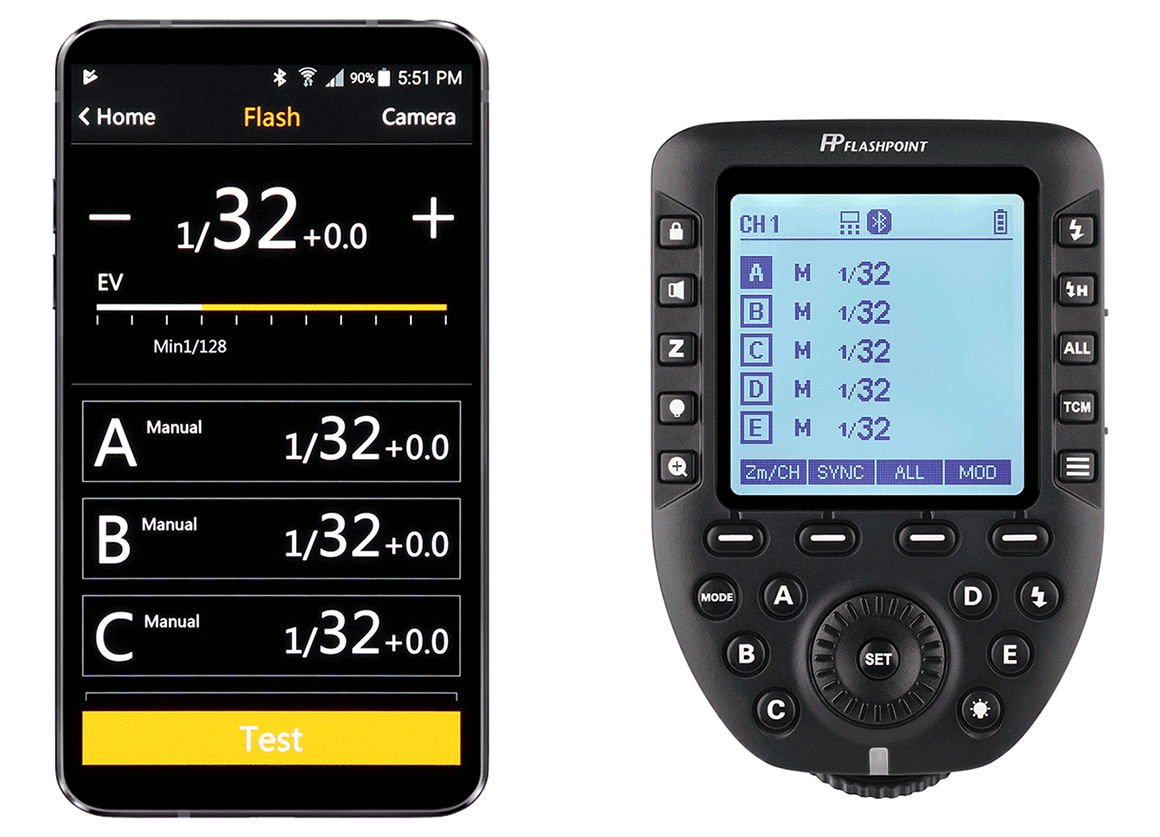 MENU OPTIONS
The R2 PRO II again features a full graphic menu system, providing 16 Custom Function options at the time of release. A static image showing all functions can also be seen here.
NOTE – 0.1 or 0.3 stop Manual power level increment options, and a Channel Scan function have also bee added since the original static image and animation bellow were made.
Also note, one of the new options not discussed previously above, is the option to disable MULTI Mode from the main Mode button. This avoids the common pitfall of entering the MULTI screen accidentally when that mode is not required.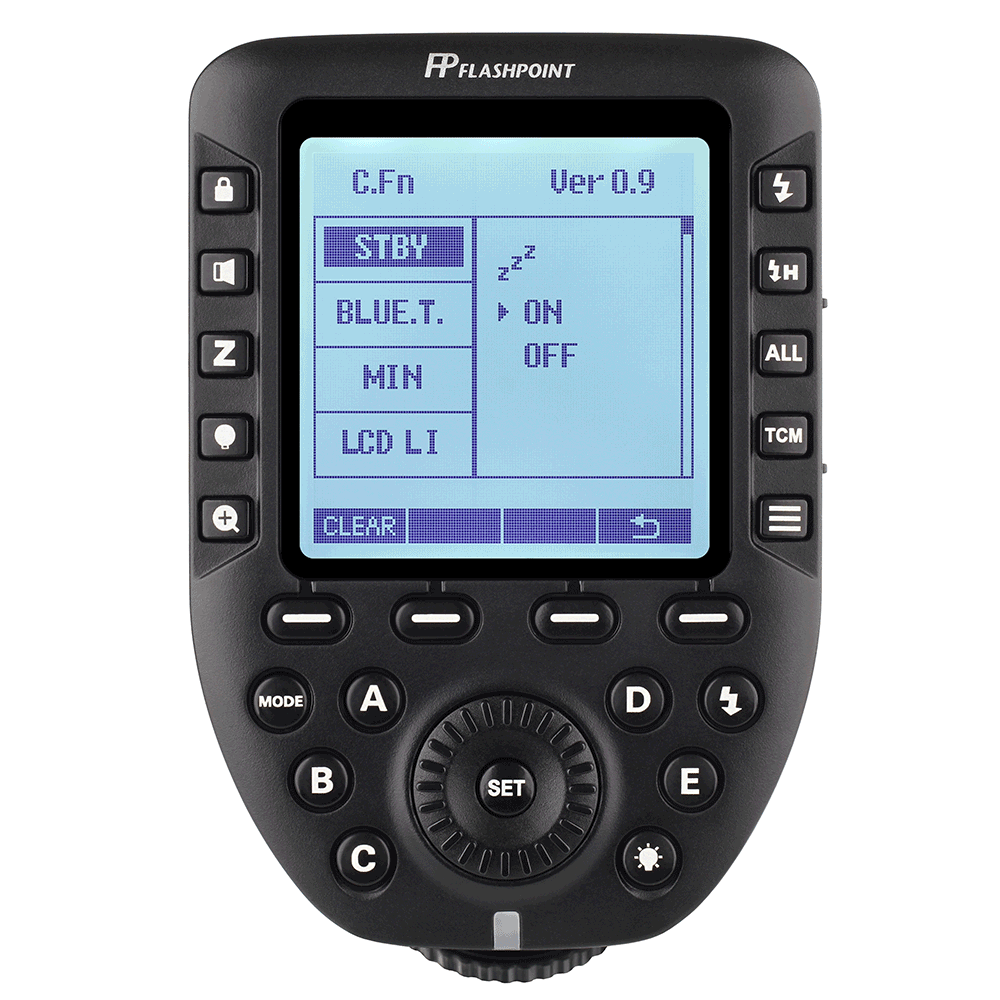 CHANNEL SCAN FUNCTION
Also added to the R2 PRO II Transmitter Menu from firmware version V1.5 onward is a Channel Scan Function, which allows you to scan for channels with the best radio reception in the current environment.
This can be a really important feature if you're experiencing any issues with misfires or radio interference. Now you can and select a clean channel, which can dramatically improve radio reliability.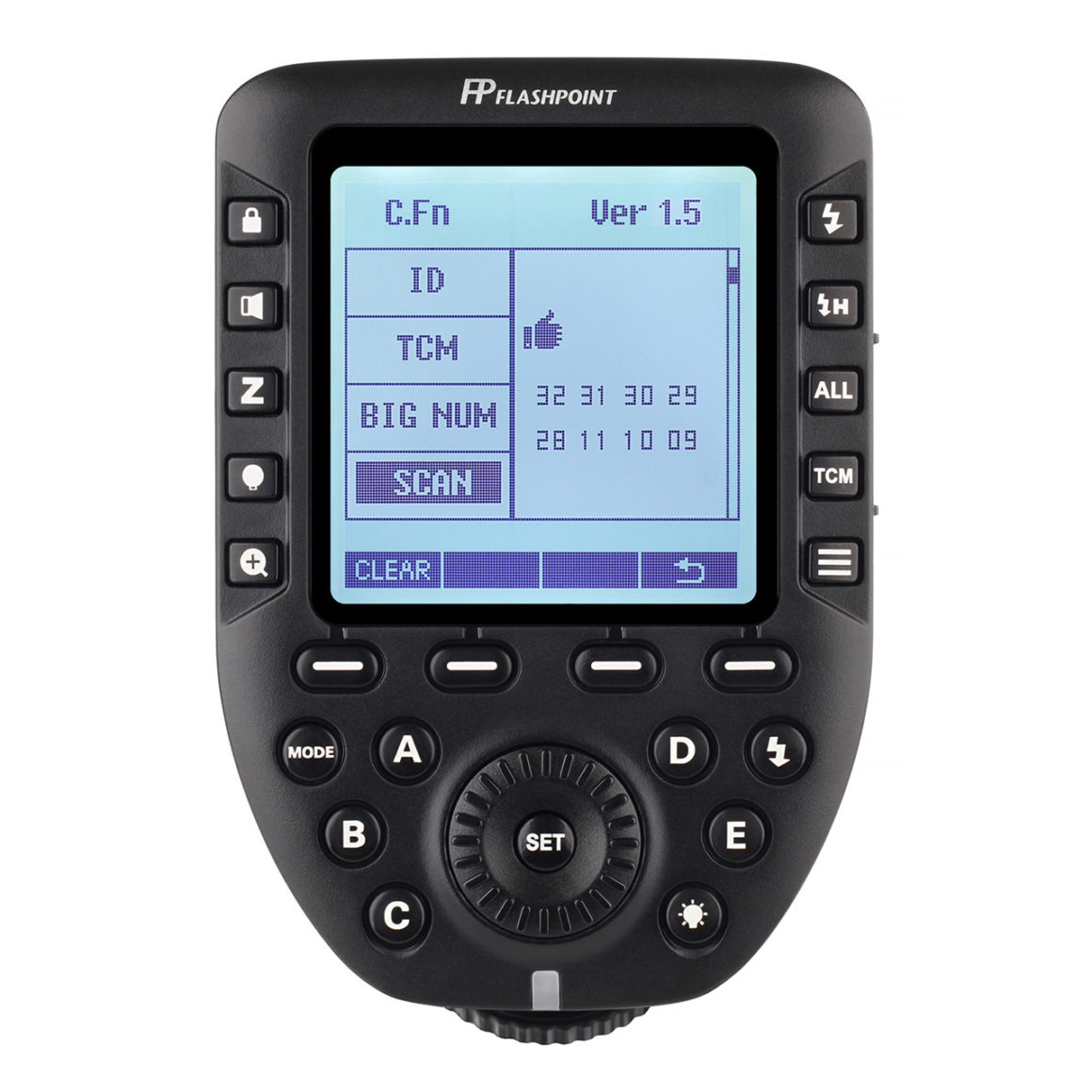 FLASHPOINT R2 PRO II SPECS
MODEL
R2 PRO II – C
Compatible Cameras
Canon EOS cameras (E-TTL II autoflash)
Support for cameras which have a PC Sync socket
Power Supply
2 x AA Batteries
FLASH EXPOSURE CONTROL
TTL AutoFlash
E-TTL II
Manual Flash
YES
Stroboscopic Flash
YES
FUNCTION
HSS (High Speed Sync)
YES
Second Curtain Sync
YES
Flash Exposure Compensation
YES, +/- 3 stops, In 1/3 stop increments
Flash Exposure Lock
YES
Focus Assist
YES
Modelling Lamp
Manual 10-100%, In 5% increments, & proportional
Beep
YES, control via group
Zoom
YES, Adjust the flash Zoom setting from the transmitter
TCM Function
Converts the TTL shooting value into an output value in M mode
Memory Function
Settings stored 2 seconds after last use, and restored after restart
Shutter Release
YES, using a receiver connected via shutter release cable to camera
Firmware Update
YES, upgrade via Type-C USB port
WIRELESS FLASH
Transmission Range
0-100M approx.
Built-in Wireless
2.4GHz
Modulation Mode
MSK
Channels
32
Wireless ID
01-99
Groups
16
Bluetooth
YES, provides remote control via smart device with APP
PORTS
Sync Port
2.5mm sync port (function in or out)
USB Port
Type-C USB port, for firmware updates
OTHER
Size
98 x 65 x 51mm
Weight
98g without batteries
FUNCTION UPDATES OVER THE ORIGINAL R2 PRO TRANSMITTER
Below is a quick summary of the R2 PRO II Transmitters operating differences/upgrades from the original R2 PRO / Xpro Transmitters.
Fast Group Management
Double Press Group Button Turns Group ON & OFF
Long Press Group Button Turns One Group ON
Double Press Mode Button Turns All Groups OFF, and Back ON
LCD Backlight Button
Double Press Quickly Sets Light To ON and Adds LCD Icon
Long Press Quickly Sets Button Light to ON For 12 Seconds and Adds LCD Icon
Group In Memory Indicator – Grants Fast Access To Group Last Set
TCM Button – Second Press Restores Groups to Original TTL Setting
ALL Button – Adjusts Manual Groups Only
Modeling Light Button – Double Click to Adjust Power Levels
Mode Button – Order Reversed – OFF > M > TTL (For Faster TCM Use)
Multi Mode – Menu Option to Disable MULTI Mode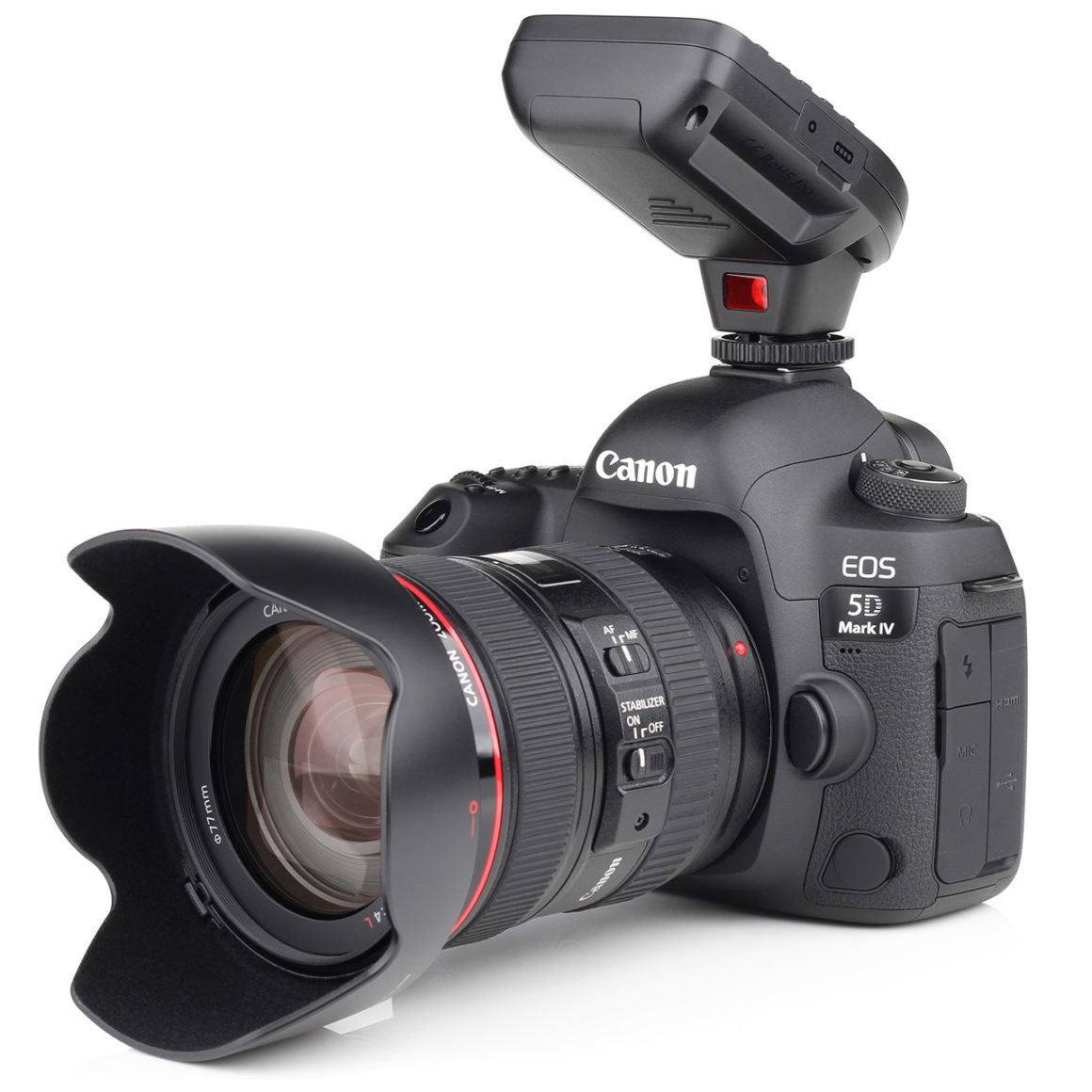 PRICE AND AVAILABILITY
The Flashpoint R2 PRO Mark II Transmitters are available now from Adorama for $69.
In Canon, Nikon, Sony, Olympus/Panasonic, Fujifilm, and Pentax versions.
EBAY – Canon, Nikon, Sony, M4/3, Fuji, Pentax
Flashpoint – Website – Firmware Updates
Flashpoint – R2 / Godox X Lighting System
Disclosure Statement – The links above, and links within the post, may contain affiliate links or promotions. These do not cost readers anything and help to keep this website alive. Many thanks for your support.